The quarter ending 30 June 2020 saw a welcome bounce back to strong positive returns, following the initial global reaction to the COVID-19 pandemic in March. The positive were primarily influenced by investors around the world regaining confidence as governments delivered sizeable economic stimulus packages (like we have seen from the New Zealand government). The most recent announcement came from the European Union who announced a €750b COVID-19 recovery plan. Further packages are expected to be announced. Aiding the positivity is that several countries have made headway in containing the virus and that the development of a vaccine is well underway with some early trials showing promising results.
In addition to government spending, the positive outlook was also helped by the expectation that interest rates may remain low for years. Investors were prepared to look through some negative headlines (e.g. reported economic statistics and political developments) and instead focus on the potential for better economic activity particularly as several economies planned to re-open. The commonly quoted USA index the Dow Jones was up a staggering 18% in the quarter.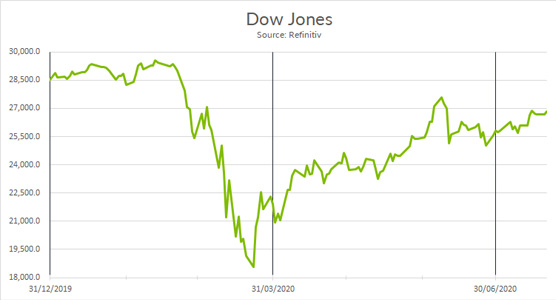 While we welcomed the rebound in the quarter, we remain focussed on the long term investment horizon for our members. Through Christian KiwiSaver Scheme's cautious investment strategy (focussed, diversified and with capital preservation in mind) our members have been shielded from the recent extreme market movements to some degree. Going forward, in the short term at least, we expect that asset prices will remain volatile (i.e. go up and down).
Investment returns at 30 June 2020 (before fees and tax) were as follows:
Not already a member of Christian KiwiSaver Scheme? Join other like-minded Kiwi Christians growing their savings ethically today!

Membership of the Christian KiwiSaver Scheme is offered only to:
employees of organisations whose primary activities are in our opinion Christian mission or ministry. This includes employees of charitable entities associated with or operating in the Christian Church, or employees of entities which we approve as having a Christian special character; and
persons who express a Christian faith and have a commitment to Christian community involvement when applying (and their immediate family members and dependants).
Christian KiwiSaver Scheme is managed and issued by The New Zealand Anglican Church Pension Board (trading as Anglican Financial Care). The Product Disclosure Statement and Fund Updates are available under Documents.