When joining KiwiSaver, one of the most important decisions you'll need to make is choosing which fund to invest your KiwiSaver money in. Christian KiwiSaver Scheme has three Funds you can invest in, being Growth, Balanced, and Income. Each of our Funds has different risk profiles. However, did you know you can invest in up to all three of our Funds?
Understanding your investment goals
Before you rethink which of our Funds to invest in, it may be important to understand your investment goals. One reason to consider this is so that you know what your appetite for risk is. For example, depending on your situation, you may prefer to invest more in our Growth Fund, which contains investments the investments industry expects to have more frequent highs and lows but over time the Growth Fund is expected to provide higher returns. Contrastingly, you may prefer a Fund that the industry considers to carry lower risk than the Growth Fund and lower expected long-term returns. Funds with this profile would be the Balanced Fund and the Income Fund for our scheme.
It can be tricky figuring out your appetite for risk, but understanding this is useful to see if your KiwiSaver is working well for you. One tool to help you understand your appetite for risk is the 'Investor Profiler' tool on the Sorted website. You can find that here: https://sorted.org.nz/tools/investor-profiler
This tool asks you some simple questions about your approach to your investment. Based on your answers, the tool gives you an idea of what type of investor you are and other helpful information, such as what you could expect from your investment.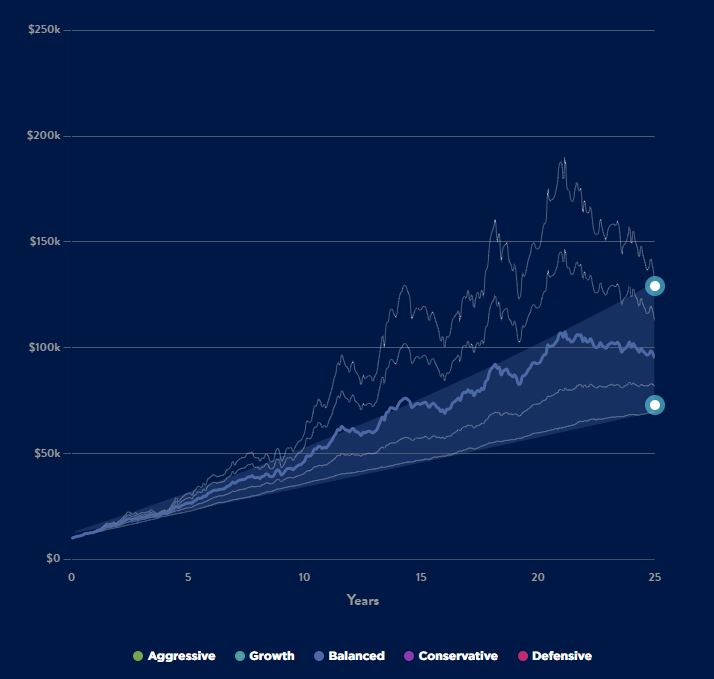 This image is a screenshot of example graphs from the results of the Sorted Investor Profiler. The example graphs shown are of $10,000 invested over 25 years with $50 each week. These are based on a range of assumptions and thousands of simulations. Your results will vary.
How can you allocate your KiwiSaver across our Funds?
Have you decided that you would like to allocate portions of your KiwiSaver money across our available Funds? Then all you need to do is fill out a Change of Investment form and email it to us. The form will contain simple instructions to follow. You will also see a table where you can specify the percentage of your KiwiSaver you would like in our Funds available.
This image is an example from our Change of Investment form which shows you the options of where you can allocate your KiwiSaver funds.
Before you do fill out this form, there are just a couple of things to keep in mind:
Make sure that there is at least 10% in any selected Fund.
Make sure the percentages you choose to invest in are whole numbers.
To illustrate what we mean by that, here are some examples:
You can choose 10% of your KiwiSaver in our Growth Fund and 90% in our Balanced Fund. 
You cannot choose to invest only 9% of your KiwiSaver in our Growth Fund and 91% in our Balanced Fund because you need to make sure you invest at least 10% in any selected fund.
You cannot choose to invest 10.5% of your KiwiSaver in our Growth Fund and 89.5% in our Balanced Fund because you need to make sure the percentage you choose is a whole number. In this case, you might choose either 10% in the Growth Fund and 90% in the Balanced Fund or 11% in the Growth Fund and 89% in the Balanced Fund.
These examples show a 10%/90% split. You can of course choose different splits for example 25%/75%, 50%/50% across two of our Funds, or 10%/20%/70%, 20%/30%/50% across three of our Funds etc.
If you want to change how your KiwiSaver money is allocated across our Funds, please fill in the form here.
Once you have completed the form, please email it to admin@christiankiwisaver.nz.
This is a service that we offer right from the application process to our KiwiSaver Scheme. If you have ever wanted to split your KiwiSaver money across some or all of our Funds, this option may be for you. 
We hope Christian KiwiSaver Scheme continues to help you reach your investment goals.